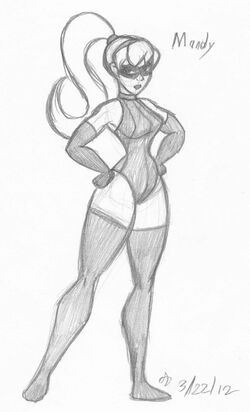 Created by DeviantArt user
Archangel Dreadnought
. Created as an inflation capable character.
Got her elastic ablity in an accident in a storage room at the cosmetic research company that currently employes her.
Skin and other soft tissues can stretch about 50 times there normal size. Skeletal structure is more limited, five times is the maximum for the longer bones, smaller ones (like in the hands a feet) have even less.
Her hair is prehensile and can stretch over 100 times its normal length.
Dark gray, almost black, body suit with pink sleeves and legs. Thigh high dark gray, almost black, boots with long dark gray, almost black, gloves. All are made of a shiny, latex like material.
References
Edit